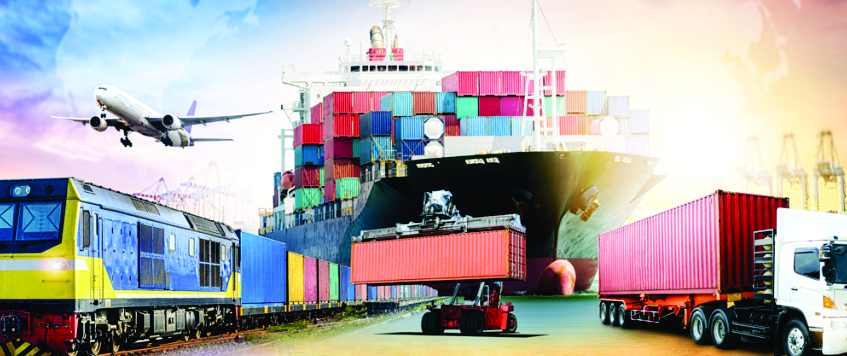 INTERNATIONAL FREIGHT FORWARDING
NES has the ability to move goods efficiently which is essential to any supply chain solution. NES has fully developed Sea, Air & Land transportation capabilities improve supply chain flexibility, predictability and efficiency. Solutions are tailored to customer needs from single shipments to complex multi-location logistics programs.
NES shipping freight forwarding services includes the following:
Sea freight forwarding
Air freight forwarding
Consolidation/warehousing
Door to door cargo services
Road haulage
Personal effect management etc.
Sea freight forwarding
Sea freight forms the largest segment of all Nigerian imports. For this reason, it is also the mainstay of NES shipping's business. Within this segment, the largest division is containerized goods. It handles containers, bulk cargo, crates, oversized cargo and vehicle importation. Through the close relationships that we have developed with all active shipping lines in Nigeria, we are able to confidently guarantee sea freight capacities that can easily adapt to growing trade volumes. This is a key benefit when referring to the management of global supply chains
NES Shipping Limited provides an extensive range of sea freight solutions for both the import and export of cargo, ranging from direct trans-shipment services with full or part container loads; to total service offering.
Our worldwide freight links and the availability of 24-hr monitoring, enable clients to confirm a cost effective transport option, while at the same time enjoying the security and peace of mind whilst we use the tracking system to monitor their cargo.
We can also manage import/export services through our extensive network of agents, by ensuring that all identification and documentation is fully prepared in advance to speed transit through Nigeria Customs.

Air Freight Forwarding
NES Shipping offers a full range of Air freight solutions via our network of international agents. As freight forwarding and logistics outfit, we partner with our customers to advice them on the varying methods available to mobilize their goods. We advise on transit times, transportation options and pricing.
Whether there is a need for transit through different Airports or direct Air services, our expert professionals are ready to route your goods to or from any point in the world. Due to an ever-increasing demand for shorter transit times, we utilize premium carriers with established routings for our consolidations. Many different options are available to our customers to choose from .Air freight works with Airlines on a global basis to ensure a competitive reliable service. When required, we will organize consolidations and charters for transportation of your goods. The company has an insured agency network, which enables us to provide international door-to-door delivery. Aircraft charter for transportation of large volume of goods is one of our specialty services

Consolidation /Warehousing
We have arrangement with our overseas agents in UK, USA China and Dubai to collect clients' goods repackaged into order, wrapped and sent to us for onwards delivery to our clients in Nigeria and neighbouring countries.
This partnership provides a full incentive and package of customs clearance service and warehousing with an aim to pinpoint the most cost effective and efficient way for importers.
NES Shipping provides secured warehousing facilities for the storage and warehousing of goods and equipments of all description. To this end, we have large covered, uncovered warehouses and stacking areas in major cities in Nigeria. All our warehouse staffs are trained in our customers' unique requirements, ensuring that their goods are cared for in a professional manner and deliver a high level of service to the customers.

Door To Door Cargo Services
NES Shipping is in a vantage position to provide first class door to door cargo services to its numerous customers which lessens and eases logistic problems to the consignee.
It is a package that enables shipment and clearing from our branches all over the world.
The company also goes as far as providing services like packaging, transporting and shipping from country of origin, and clearing/delivery in the country of destination.
Door to door service means the consignee is not taking charge of shipment and clearing after buying, it is left for NES Shipping to carry on, and deliver at the consignee door post if so desired.
NES Shipping have seasoned and qualified staff that can take care of logistics problems. Delicate consignment is handled with extreme care and caution and we can assure you that NES Shipping always delivers on schedule. And apart from shipment,Freighting and clearing, NES Shipping can also provide other logistics' packages like relocation and transportation.

Road Haulage
At NES Shipping, we are aware of the need for prompt delivery of goods at client's specifications. We have therefore striven to make the difference in the haulage of goods within Nigeria, and those that come and leave to other neighbouring, countries such as Republic of Benin, Togo, Ghana, and Cameroon e.t.c through the approved land border stations.
Our range of light and heavy duty trucks and cargo trucks, manned by specially trained personnel, regularly transport goods and bulk materials throughout Nigeria and the neighbouring countries in general.
The goods are in various forms like dry cargo, wet cargo, frozen cargo, containerized cargo, groupage cargo, personal effects, vehicles (light and heavy), bulk cargo, industrial machines/spares, export commodities and others.

Personal Effects Management
The world today is essentially a global village and the mobility of personnel has grown more than ever before. The need then arises to move people and their effects as fast and efficient as possible.
NES Shipping attaches utmost importance to the handling of personal effects of our clients, as this is indeed one delicate service that demands specialized skills, diligence, and an eye for minute's details on the part of the handlers.
Given the incidence of high staff mobility in the oil industry, both intra-country and inter country, it becomes imperative therefore to fashion a vigorous and painstaking ethic for the sorting, arrangement and packing of household and office effects belonging to the staff members of clients. It is one of the ways to ensure at all times that effective handling complemented by efficient and prompt delivery of the items to their destination. We deliver locally and also forward by Sea or Air freight to any location in any continent.
To retain our proven edge as a leader in personal effects handling, we utilize superior quality packaging materials as well as packaging techniques, besides retaining the services of experienced professional packers.
Export Services
NES Shipping has capacity to handle both sea and air export project movements for oil and gas and other multinational organisations.
As a medium - sized logistics organization with a worldwide presence at the most strategically important trading and port centres, allows us to offer a totally individual services tailored especially to our customers
NES Shipping handles logistics services on behalf of Nigerian manufacturers, e-commerce, construction & engineering, auto-mobile, food & perishables, IT, pharmaceutical and on retail in respect of finished products to all West African countries and beyond.